Produces 50 gallons of water per day
Our premier system is the reverse osmosis system that purifies the water that you drink, giving it great taste and removing everything that could harm you in the short and long term.



Features:




¡ñ

3.2 Gallons Standards Water Storage Tank.


¡ñ

Polypropylene Made Housing .


¡ñ

Automatic Shut-off Valve, 300cc Flow Restrictor, Stainless Steel Check Valve.


¡ñ

Long Reach Chrome Faucet.


¡ñ

water connector.


¡ñ

Drain Saddle Valve.


¡ñ

White Color 1/4 inch Tubing for System Connection


¡ñ

Completely Assembled


¡ñ

100% Factory Tested and Sterilized Ready for Installation.


¡ñ

Installation Instruction.


Our reverse osmosis water filter system comes
complete with a standard 3.2 gallons water
storage tank and all the necessary fittings,
installation kits, white 1/4" tubing, installation
manual and a long-reach faucet.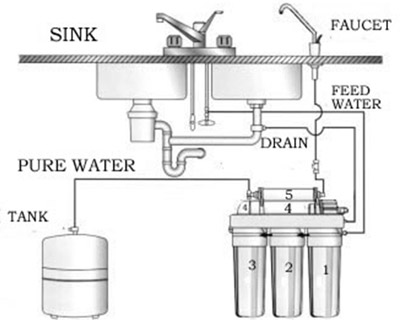 WATER FITLER CARTRIDGES
¡ñ (Stage 1) 5 Micron Sediment water Filter :
With only five micron rating. It is effective in removing dirt, rust and sand particles.
¡ñ (Stage 2) Granular Activated Carbon water Filter:
It takes out 99% of the chlorine and organic chemicals. It provides enhanced reduction
of taste, odor, and color.
¡ñ (Stage 3) 1 Micron Sediment water Filter :
With only 1 micron rating, provides effective filtration to protect your membrane.
It provides for improved membrane performance up to 95% of TDS rejection.
¡ñ (Stage 4) Reverse Osmosis Membrane:
A thin film composite (TFC) high quality membrane that processes 50 gallons per day.
It remove the following hard water contaminants that may be present in your water:
lead, cooper, barium, chromium, mercury, sodium, cadmium, fluoride, nitrite, nitrate,
and selenium.
¡ñ (Stage 5) Post Carbon water filter:
This carbon post filter removes objectionable tastes and odors to enhance the quality of your
drinking water. We are using NSF approved post carbon to guarantee the taste of water.
Replacement water Filter cartridge:
We recommend to replace the filter elements according to the following chart.
Stage

Part No.

Filter Description (Standard Size)

6
months

1
year

2-4
years

1

¡¡

¡¡

¡¡

2

¡¡

¡¡

¡¡

3

¡¡

¡¡

¡¡

4

¡¡

¡¡

¡¡

5

¡¡

¡¡

¡¡
With your own reverse osmosis water filter system under your sink working for you twenty-four hours a day, you can have as much purified water at the touch of a finger whenever you want it. Free to use all you want, clean, safe water on tap, and no more trips to the store.