Reverse osmosis accssories
Reverse Osmosis Tank
Water goes through a reverse osmosis membrane very slowly and people don't have the patience to wait a long time to get a cup of water. For this reason the residential RO units need a water storage tank to store the purified water.

Booster Pump
For Increasing Water Pressure To
Pre-Water Treatment applications (RO Boost)
Use with membranes up to 50 GPD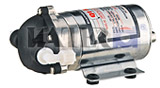 Permeate pump
A non-electrical, energy-saving device which dramatically improves RO system efficiency.


AUTOMATIC FOUR WAY SHUT OFF VALVE
The original diaphragm design of WQA validated valves provide automatic shut-off to supply line when storage tank reaches 65% of inlet pressure, to potentially save thousands of gallons of water per year. Valves are made using FDA grade.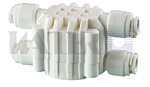 Flow Controls & Restrictors
Flow Controls (aka Flow Restrictors) are required for all Reverse Osmosis systems and must be properly sized to the membrane capacity, typically 3-4 parts brine (drain water) to 1 part permeate (product water).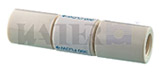 Saddle Valve
Self-piercing function with needle valve . allow connection of undercounter filters into home plumbing systems.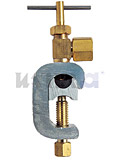 TDS Meter
These handheld water quality testers enable you to determine just how good or bad your water really is! These testers accurately measure the TDS level in your water. Ideal for testing reverse osmosis membrane performance and determining the need¡­.


Filter Wrenches
Filter Wrench is for use with the water filter housings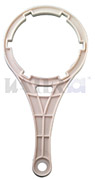 TUBING
Available in PP and polyethylene, standard and metric, varying colors and lengths.


Tube Cutter - Suitable For Up To 1/2" (12mm)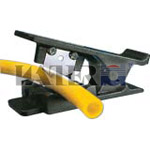 Clips and Mounting

Water Pressure Gauge